Commemorative Plaque Golden Belt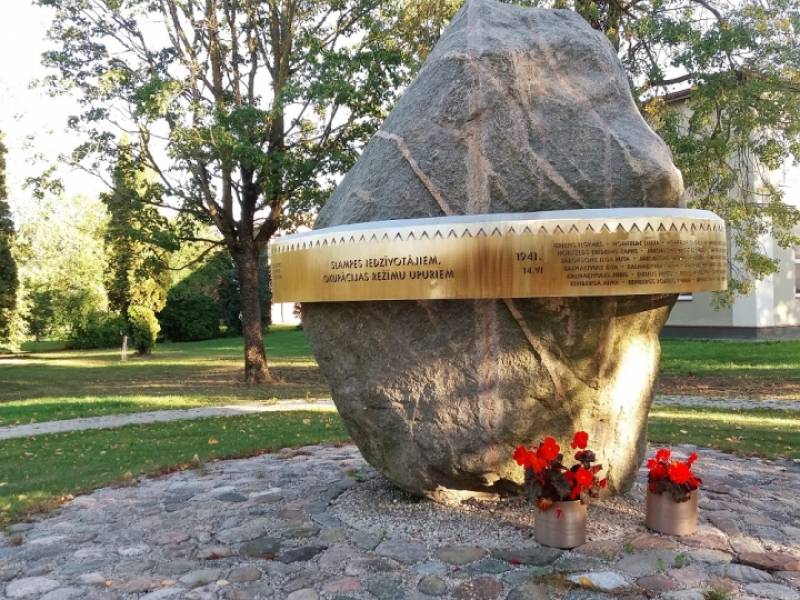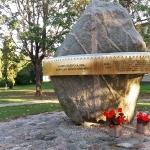 Description
On 14 June 2015, a commemorative plaque was unveiled in the centre of Slampe "Golden Belt" dedicated to the politically repressed residents of Slampe. The idea of the commemorative site was proposed by Māra Zālīte, a writer who has deep roots in Slampe. The authors of the monument are the architect Edvīns Vecumnieks and the sculptor Ģirts Burvis.
A stainless steel golden-coloured "belt" is wrapped around the commemorative stone, with laser engraved names of the hundred locals who suffered from political repressions. These are victims of deportations that took place on 14 June 1941 and on 25 March 1949, as well as victims of the Holocaust. Why a "Golden Belt"? It is an image of the folklore of Latvia that symbolises protection: "Sien, Dieviņi, zelta jostu / Apkārt manu tēvu zemi, / Lai nenāca sveši ļaudis / Šai zemē ziedus traukt!" (Wrap, oh God, a golden belt / Around my homeland, / To keep strangers afar, / To protect our land!).
The commemorative site was created with financial support by Tukums Municipal Council, as well as from donations by private individuals and local businesses.
Contact information

"Rīti", Slampe, Slampe parish, Tukums region